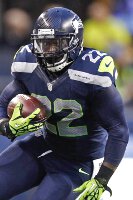 RB Robert Turbin
Seattle Seahawks
By now, everyone in fantasy land has heard the story about an unhappy Marshawn Lynch and his holdout. As of this writing, he has missed three days of camp and has cost himself about $90,000 in the process. After two more days, the team can start going after the pro-rated portion of his signing bonus for the year (approximately $1.5 million). Lynch is scheduled to make a little more than $5 million this year and close to $9 million next year. The speculation is that he won't see the final year of his contract due to the cap hit and the Seattle Seahawks need to open up the vault for Russell Wilson's mega deal. In my opinion, this holdout is more about next year than this year. In Seattle, all you have heard this summer is that Lynch is going to get cut next season as an inevitable cap casualty. His contract is just too big for a power back that has had a huge workload over the past three years, and (gulp) is approaching the dreaded 30-year-old mark. How much punishment can one ...
Evaluating the running back position in fantasy land is a touchy situation. The bell-cow back is a threatened species as offense continues trending toward spreading the field, keeping the ball in the ...
If you want to see just how wide the divide in opinion can get among fantasy football owners, just mention the "r" word. For some, risky picks are to be avoided like the plague, busts in the making ...
In the finale of this series we will take a look at how that pricy fantasy football magazine did projecting the tight end position last year. If you have read any of the other retrospectives, you ...
Last week I wrote a piece covering players whose auction values are currently cheap relative to their fantasy value (aka 2014 Auction Draft Bargains), and therefore, they are who you should be ...
MFL Site News
Wednesday, Jul 30, 2014
The following player position changes will be made on Thursday, July 31st, to bring our player database up-to-date with ...
Tuesday, Jul 29, 2014
With the start of the football season just over a month away, we wanted to make sure you were aware of many other ...
Monday, Jul 28, 2014
Our early bird discount deadline is rapidly approaching! If you haven't already purchased your league(s) for 2014, be ...
Tuesday, Jul 22, 2014
According to our records, your 2013 fantasy football league home page at http://%HOST%/2013/home/%LEAG...
Monday, Jul 7, 2014
Announcing The Fantasy Championship! In partnership with RealTime ...
Saturday, Jun 21, 2014
Announcing The Fantasy Championship! In partnership with ...
Wednesday, Jun 11, 2014
The early bird discount deadline for MyFantasyLeague.com has been extended! If you haven't paid for your league ...
Wednesday, Dec 31, 1969