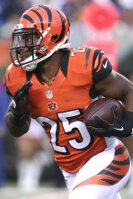 RB Giovani Bernard
Cincinnati Bengals
Evaluating the running back position in fantasy land is a touchy situation. The bell-cow back is a threatened species as offense continues trending toward spreading the field, keeping the ball in the air and quickening the pace of the game. Regardless of your draft day designs when it comes to selecting your running backs it's becoming a better idea to look at both phases of the offensive attack. Rushing and receiving yardage is typically scored the same so shift some focus away from yards per rushing attempt to yards per touch. YPT includes what a running back is doing as a receiver and also highlights overall game-breaking ability. Heavy-usage running backs that touched the football more than 300 times last season are almost all going at the very top of your draft. Jamaal Charles sizzled past them all at 6.02 YPT on 329 touches. Next in line was LeSean McCoy (5.86 YPT) and Matt Forte (5.33 YPT), both of whom went over 360 touches to lead the regular season. Knowshon Moreno was ...
If you want to see just how wide the divide in opinion can get among fantasy football owners, just mention the "r" word. For some, risky picks are to be avoided like the plague, busts in the making ...
In the finale of this series we will take a look at how that pricy fantasy football magazine did projecting the tight end position last year. If you have read any of the other retrospectives, you ...
Last week I wrote a piece covering players whose auction values are currently cheap relative to their fantasy value (aka 2014 Auction Draft Bargains), and therefore, they are who you should be ...
QB Carson Palmer, ARI Carson Palmer stabilized the quarterback position for Arizona after his arrival in 2013. He started all 16 games and produced a 36-percent bump in fantasy points for the ...
MFL Site News
Tuesday, Jul 29, 2014
With the start of the football season just over a month away, we wanted to make sure you were aware of many other ...
Monday, Jul 28, 2014
Our early bird discount deadline is rapidly approaching! If you haven't already purchased your league(s) for 2014, be ...
Tuesday, Jul 22, 2014
According to our records, your 2013 fantasy football league home page at http://%HOST%/2013/home/%LEAG...
Monday, Jul 7, 2014
Announcing The Fantasy Championship! In partnership with RealTime ...
Saturday, Jun 21, 2014
Announcing The Fantasy Championship! In partnership with ...
Wednesday, Jun 11, 2014
The early bird discount deadline for MyFantasyLeague.com has been extended! If you haven't paid for your league ...
Tuesday, Jun 10, 2014
If you haven't already, be sure to purchase your league before the end of the day on June 12th to save $20! See ...
Wednesday, Dec 31, 1969