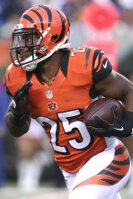 RB Giovani Bernard
Cincinnati Bengals
I would like to weigh in on a topic that gets almost no media coverage in this day and age: Johnny Manziel. Ladies and germs, I love me some Manziel. In a sports world filled with personality-devoid automatons spewing platitudes at reporters, here is a quarterback with something completely unheard of for the position: a personality. It absolutely kills me that higher ups in Cleveland have complained about him going to Las Vegas and hanging out with celebrity friends. I'm sorry, but have they even briefly glanced at a TV playing ESPN at any point in the last two years? If you don't want a quarterback who has fun and hangs out with famous people in his spare time, don't trade up for a guy who has spent the last two years doing exactly that. Furthermore, exactly what harm is being done by Manziel being in the vicinity of other famous people? Why is Manziel a distraction destined to fail as a professional football player for the horrible crime of appearing in selfies with ...
Depending on how long you have been playing fantasy football, you might remember a time when you would walk into a draft and see most of your leaguemates drafting from a fantasy football magazine or ...
Now that training camps have begun and preseason games are right around the corner, it's time for my 2014 fantasy sleepers. Everyone has a different definition of a sleeper. I've always been a ...
NFC East receiving targets are being drafted significantly more often than average. Out of the roughly 60 wide receivers that are being drafted in the first 15 rounds of 12-team leagues, 10 are from ...
We're going to take a look at two guys who have been ranked similarly in most of the preseason rankings. Now that training camps have kicked off we'll take a closer look to give you the edge that you ...
MFL Site News
Thursday, Jul 31, 2014
The early bird discount deadline for MyFantasyLeague.com has been extended! If you haven't paid for your league ...
Wednesday, Jul 30, 2014
The following player position changes will be made on Thursday, July 31st, to bring our player database up-to-date with ...
Tuesday, Jul 29, 2014
With the start of the football season just over a month away, we wanted to make sure you were aware of many other ...
Monday, Jul 28, 2014
Our early bird discount deadline is rapidly approaching! If you haven't already purchased your league(s) for 2014, be ...
Tuesday, Jul 22, 2014
According to our records, your 2013 fantasy football league home page at http://%HOST%/2013/home/%LEAG...
Monday, Jul 7, 2014
Announcing The Fantasy Championship! In partnership with RealTime ...
Saturday, Jun 21, 2014
Announcing The Fantasy Championship! In partnership with ...
Wednesday, Dec 31, 1969