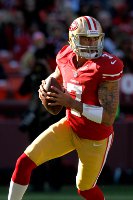 QB Colin Kaepernick
San Francisco 49'ers
QB Colin Kaepernick, SF Kaepernick is not a top-10 quarterback this season and you could argue that he's barely in the top 15 QB. Nonetheless, Kaepernick starts off the season with back-to-back great matchups. He kicks the season off against the Dallas Cowboys, who ranked dead last in total defense and 30th against the pass last season. The Cowboys gave up 415 yards per game last season, and their defense has only gotten worse. The Cowboys' best player, linebacker Sean Lee, is already on injured reserve. Defensive backs Orlando Scandrick and Jakar Hamilton will be suspended for the first quadrant of the season, and their two best linemen, Jason Hatcher and DeMarcus Ware, are now playing elsewhere. The matchup couldn't be any better for Kaepernick, especially due to his dual-threat capabilities. Dallas will struggle against one-dimensional offenses let alone an athlete like Kaepernick. In Week 2, the 49ers face off against the Bears. They were the 30th-ranked defense last year. ...
1) Muhamed Sanu, WR, Cincinnati - Sanu has suddenly become a player of interest after posting 7 catches for 176 yards and one touchdown this preseason. It's nearly a ...
This will be an abbreviated edition of Wally's World as we all take a deep breath in anticipation of Week 1 and some actual NFL football action. For the sake of full disclosure I will state front ...
Hello everyone, my name is Andrew Lowes and I'm a 3-time national finalist on American Ninja Warrior, and as you can guess, I enjoy participating in extreme activities. While fantasy football may not ...
I'd like to mention two players that I think are flying under the radar and should be owned especially in deeper leagues. I know that I mentioned these two guys a few weeks back, but it won't hurt to ...
MFL Site News
Friday, Aug 29, 2014
The following player position changes will be made on Saturday, August 30th, to bring our player database up-to-date ...
Thursday, Aug 28, 2014
With kickoff less than a week away, we are excited to announce a Partnership with DraftKin...
Tuesday, Aug 19, 2014
The inaugural season of the FantasyChampionship.com is off to a great start with multi...
Sunday, Aug 17, 2014
Now that the fantasy football draft season is rapidly approaching, we have several tips to help you get ready for your ...
Friday, Aug 15, 2014
One week left to earn a Free MFL10s Entry from DraftKings.com! Our popular ...
Tuesday, Aug 12, 2014
Many of our customers enjoy access to their MyFantasyLeague.com league pages from their iPhone, Android, or other ...
Sunday, Aug 10, 2014
Draft your way to $200,000 in the FantasyChampionship.com If you are looking to take your game to the next level with ...
Wednesday, Dec 31, 1969