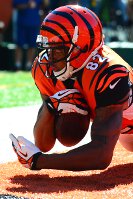 WR Marvin Jones
Cincinnati Bengals
Coaching is one of the biggest aspects that often tends to get overlooked prior to your fantasy football draft. Last year, Philip Rivers had an excellent season with Ken Whisenhunt as the offensive coordinator. Now that Whisenhunt is gone, Rivers will most likely see his numbers decrease, and as a result, be overdrafted in fantasy leagues. Below are four coaches who changed teams that should impact their new teams whether positively or negatively. Jay Gruden, Washington Last season Gruden was the offensive coordinator for Cincinnati. I think Gruden is one of the best playcallers in the NFL as he has made Andy Dalton look a hundred times better than he really is. Last season, Dalton threw for more than 4,000 yards and 33 touchdowns in leading the Bengals to an AFC North title. Gruden should have a huge impact on Robert Griffin III who is now fully recovered from his ACL injury. Griffin III, in my opinion, is being underdrafted. Teaming Gruden with a healthy Griffin III ...
Training camps have opened for all 32 teams and the position battles at wide receiver are well underway. Here are 10 names we should keep tabs on as the preseason is just around the ...
Every dynasty league has that day. You know it, cut day. The day where you decide who stays and who gets sent back into the draft. You scurry to make trades and get something for that decent player ...
QB Matt Hasselbeck, IND It seems as if Matt Hasselbeck has been in the NFL forever. This upcoming season will be his 16th and likely last season, because he has plans to retire at the end of the ...
In the last few years, there's been a big increase in auction-style fantasy drafts. The format has a lot of merits. It's exciting, because you don't have to wait half an hour between your picks. And ...
MFL Site News
Tuesday, Jul 29, 2014
With the start of the football season just over a month away, we wanted to make sure you were aware of many other ...
Monday, Jul 28, 2014
Our early bird discount deadline is rapidly approaching! If you haven't already purchased your league(s) for 2014, be ...
Tuesday, Jul 22, 2014
According to our records, your 2013 fantasy football league home page at http://%HOST%/2013/home/%LEAG...
Monday, Jul 7, 2014
Announcing The Fantasy Championship! In partnership with RealTime ...
Saturday, Jun 21, 2014
Announcing The Fantasy Championship! In partnership with ...
Wednesday, Jun 11, 2014
The early bird discount deadline for MyFantasyLeague.com has been extended! If you haven't paid for your league ...
Tuesday, Jun 10, 2014
If you haven't already, be sure to purchase your league before the end of the day on June 12th to save $20! See ...
Wednesday, Dec 31, 1969