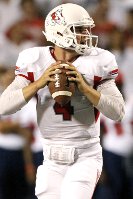 QB Derek Carr
Oakland Raiders
QB Derek Carr, OAK The Raiders can only hope they have found a savior to their organization. Carson Palmer wasn't it; Terrelle Pryor wasn't it and Matt Schaub is likely a short-term band-aid at best. Derek Carr was drafted in the second round and reports indicate that the Raiders are pleased with their choice. Offensive coordinator Greg Olson has raved about Carr's accuracy in OTAs and while it's not live game action, Oakland likes what they've seen. The Fresno State alum brings a strong arm, good size, precise passing and a hard-working mentality to the team. It helps that he learned from his older brother [David Carr] who spent nine years as a quarterback in the NFL. Carr will likely also benefit from Matt Schaub taking him under his wing as he goes through the normal growing pains as a rookie, but the belief is that Carr will be under center to start at some point this year. Even if he starts, Carr shouldn't be considered for fantasy purposes just yet (unless you are ...
QB Matt Hasselbeck, IND It seems as if Matt Hasselbeck has been in the NFL forever. This upcoming season will be his 16th and likely last season, because he has plans to retire at the end of the ...
I apologize to the 14 people who read this column for not posting anything in a couple of weeks but it couldn't be avoided. My cousin was hospitalized and things have been a bit hectic. I've ...
The myth that receivers steal production from each other is about to be busted. This myth is so wrong I wanted to spend a whole article on it. The fantasy football aristocracy puts a ceiling on the ...
The third week of preseason football is often referred to as the 'dress rehearsal' week of action. The week where starters stay in the game for a half or more and give folks an extended look at ...
MFL Site News
Thursday, Aug 28, 2014
With kickoff less than a week away, we are excited to announce a Partnership with DraftKin...
Tuesday, Aug 19, 2014
The inaugural season of the FantasyChampionship.com is off to a great start with multi...
Sunday, Aug 17, 2014
Now that the fantasy football draft season is rapidly approaching, we have several tips to help you get ready for your ...
Friday, Aug 15, 2014
One week left to earn a Free MFL10s Entry from DraftKings.com! Our popular ...
Tuesday, Aug 12, 2014
Many of our customers enjoy access to their MyFantasyLeague.com league pages from their iPhone, Android, or other ...
Sunday, Aug 10, 2014
Draft your way to $200,000 in the FantasyChampionship.com If you are looking to take your game to the next level with ...
Thursday, Aug 7, 2014
Draft your way to $100 with a Free Entry from DraftKings.com! Are you looking for more ways to play fantasy football ...
Wednesday, Dec 31, 1969